Do you know Caty List? – Creating the CATALYST Project Narrative
The Power of Stories
Do you remember the stories you were told when you were a child? That feeling of immersing yourself into exciting worlds, experiencing adventures with heroes, laughing, crying, cheering together with them and the joy of a happy ending? Stories are an essential part of human communication starting from early childhood. With them, we learn to understand the world around us and this does not change in adult life. People love stories, be it in books, movies or random conversations. We remember stories longer than other types of information and they have a stronger influence on us than just facts. The secret behind the impact of stories is emotion. Years of neuroscience and psychology research hint that our brains have evolved to tell, understand, and retain stories. They are not geared towards a crystal-clear business logic that list only facts. That's why storytelling is such a powerful tool to connect with people.
But what about the role of stories in the working world? How can stories help us convey complex messages in meaningful ways and trigger actors to take action? How can we use stories to increase the impact of our projects and accelerate the sustainable and digital transformation?
Creating the CATALYST Narrative
As part of our CATALYST project, we developed a storytelling workshop series to enable stakeholders to use the power of stories in an a systematic and impact-oriented way. The aim was to develop a shared story that connects with project partners and involved stakeholders in a tangible and engaging way. With the help of storytelling canvases, storyboards, and tools like Miro, the project partners had the chance to think creatively, ponder on the main message together, analyse current and forecast future challenges as well as outline solution ideas. The following example illustrates how a story was created as part of the storytelling workshop, from idea inception to its final shape.
Be the Change, Be the Catalyst!
Story hero: Willy, 40 years old, father of two teenagers, rather conventional, working for 15 years in the sales department of a medium-sized enterprise.
The plot: Willy notices a necessity for change, particularly in his job life. Through the eyes of his children, who are Friday for Future activists, he becomes aware of many environmental problems in his company (no recycling, inefficient energy use, the boss coming to office via helicopter, colleagues commuting with private cars, too much printing, etc.). In spite of identifying numerous problem areas, Willy doesn't know how to address the related challenges in order to put the company on a transformation track.
He searches for sources of education and training to learn how to initiate a system change in his company and finds a person named Caty List, who is an international motivator and guide on sustainability education offers. Caty List takes Willy on a journey, providing him with advice and knowledge and showing him the direction into a more sustainable future for his company. At the end of the journey, Willy has a plan how to tackle environmental problems in his company and how to implement sustainable transformation. He even learned that the transformation path introduced by Caty List is not only good for people and the planet but also makes the company resilient for the future, too!
If you would like to take a journey like Willy – reach out to us! We are sure, Caty List would be very happy to take you on a tour!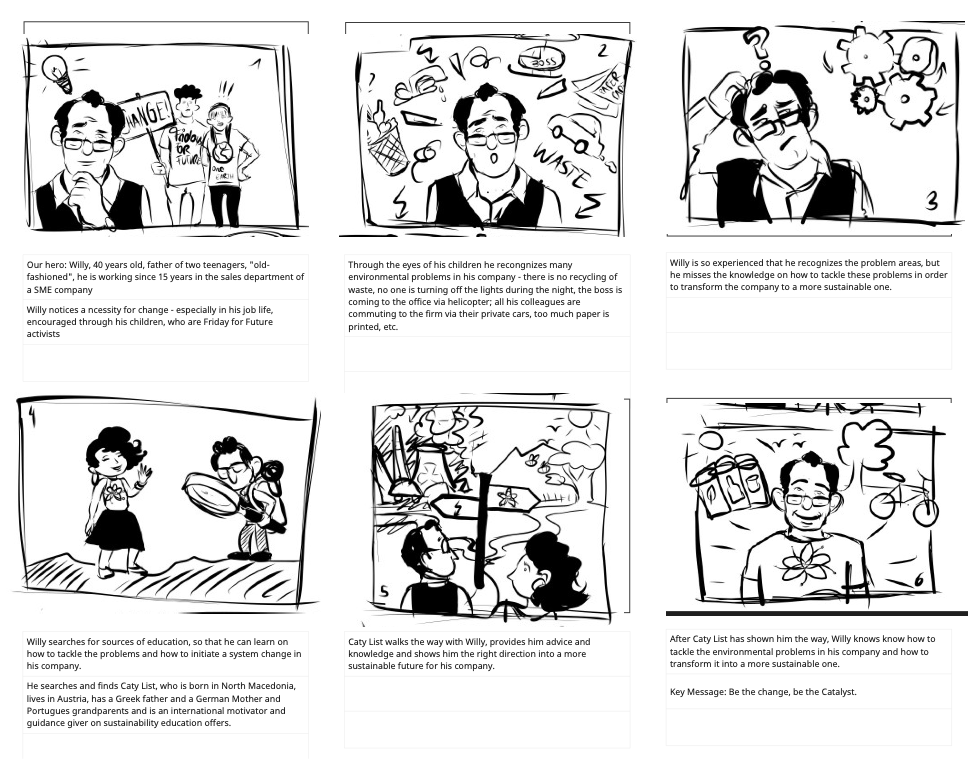 Storyboard Illustrations ©by Apflbutzn (www.apflbutzn.at). Story development ©by FH JOANNEUM (Sandra Meier, Ingrid Kienberger, Rene Wenzel,  Bojan Jovanovski, Katharina Steiner)
Background
With the help of two storytelling workshops run by the CSCP, the CATALYST project partners learned about stories as a tool to connect with people, convey messages, and generate action. Each partner created their own story on how they identify and approach the problem but also what solutions they see. In a follow up workshop, the different stories were synthesized into one CATALYST storyline, which not only helps project partners to align their thinking, but also inspires and guides them into co-creating impactful solutions together.
For additional information on the storytelling workshop format and how to implement it in your context, please contact Eva Rudolf from CSCP.